DREAM DESTINATIONS IN THAILAND - NOVEMBER
The Tourism Authority of Thailand (TAT) has listed 22 best places to see beautiful flowers in Thailand under the name Dream Destination 2 (Dream Destination 2) domestic tourism marketing campaign.
TAT Governor Mr Thawatchai Arunyik: "The opening of the campaign" Dream Destinations "Last year was a success. For this year, we continue the project with a new strong point flowers. Thailand is a tropical country, and there are many exotic tropical flowers to enjoy them and enjoy them in different locations each month of the year. »
The 22 best places to see beautiful flowers in Thailand were classified in a seasonal flowers that bloom timing in different regions and at different times of the year.
And DJ Paradise Tour will share a monthly article about the different places to visit and which are part of the Dream Destination 2
Doi Mae U-Kho, Mae Hong Son for the spectacular hills covered with golden flowers of Mexican sunflowers; Nong Nooch Tropical Garden and Chon Buri for bright pink roses of the desert.

When the cool breeze begins to blow, the green of Mount Mae U-Kho Khun Yuam in County, Mae Hong Son province (924 km north of Bangkok), changes in gold color created by Mexican Sunflower (Tithonia diversifolia). During this period, if you are traveling from Chiang Mai to Mae Hong Son by Highway 108, you'll be fascinated by a Mexican golden sunflowers bloom sea along both sides of the road over the hills by the thousands. This wildflower called buatong the northern dialect, just like the sunflower, but is much smaller.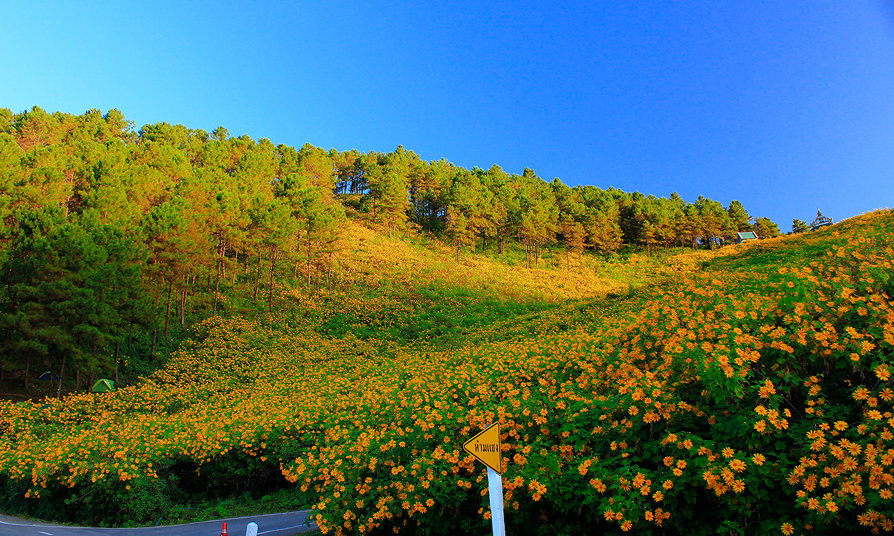 During the winter season from November to December, the Northern Thailand has breathtaking scenery. The entire campaign is filled with sunflowers in bloom, like a beautiful painting. Van Gogh would certainly have liked to know that.
Sunflowers are grown in some northern districts and Doi Mae U-Kho in the province of Mae Hong Son is best known for the cultivation of the Golden Flower. Known as Bua Tong (or Golden Lotus) in Thai, they are actually Mexican sunflowers (the botanical name being Mexican Sunflower).
Sunflowers are spread over an area of ​​400 hectares in the forest of Bua Tong. This forest is located at 1600 meters above sea level on the mountain of Doi Mae U-Kho.
When this mountain explodes in color of sunshine, natural exposure attracts many tourists. Every year a large number of tourists (mostly Thai) come here not only to keep the show but also to enjoy the nice weather. The best time to see the sunflowers is at sunset or dawn.
Each year the Festival Blooming Buatong held from November to December. Travelers are allowed to put up a tent near a buatong field and as close as possible to the flowers in their natural environment, however, you can not get into the sunflower fields.
Marigold Tree or Mexican sunflower
The Marigold tree is used in Mexico to treat sprains, bone fractures, bruises and contusions, South China, they are used to treat skin diseases (such as athlete's foot), night sweats, as a diuretic, hepatitis, jaundice, and cystitis; sold in the markets of herbal medicine in Taiwan infuse improve liver function. And to think that this smacks of Mae Hong Son province is considered a weed in parts of Nigeria and Kenya.