GASTRONOMY
Thai cuisine is known for its use of fresh herbs and spices (rather dry) and for the use of its fish sauce.
In Western countries such as Australia, New Zealand, some European countries such as the United Kingdom but also the United States and Canada, Thai food is very popular.
Unlike Western cuisine where you only eat a main course, a full menu will include Khao Thai rice dish with several dishes simultaneously.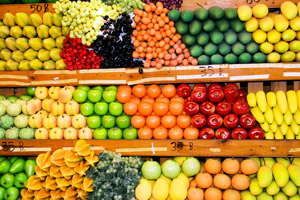 Rice is the staple of Thai cuisine, as in most Asian countries. Jasmine rice is very famous in Thailand and widely used. This long grain rice to so natural aromas grows abundantly in green rice fields of central Thailand. This aroma does not look like the sweet scent of jasmine flowers but it is also fragrant, sweet to the taste buds. The steamed rice is served with rich flavor curries, fried vegetables, many spices, lemon juice or lemon grass. Curries, fried vegetables and other side dishes are sometimes directly mixes rice to make a unique dish called Khao Rad Gang. Rice Khao neow is a single variety of rice starch which contains a surplus, which gives it its sticky texture during baking. It is the staple food in Laos and it replaces the ordinary rice in the villages of the north and northeast of Thailand where Lao cultural influence is very strong.
Noodles, known in parts of southeast Asia are called Kwaytiow by the Chinese, are very popular and are often served as a single dish Pad Thai or fried noodle soups. Chinese cuisine has been arranged in order to please the tastes of Thai such as Khuaytiow Street, a spicy and acid soup with rice noodles.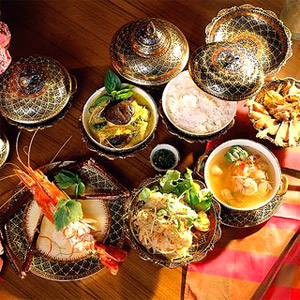 The Nam Prik is a unique dish in Thailand-based sauce chili. Each region of Thailand has its own recipe. It is prepared by crushing with a pestle peppers and other ingredients such as garlic and shrimp paste. It is often served with vegetables: cucumber, cauliflower and green beans, raw or blanched. We soaked in the sauce to eat with rice then. The Nam Prik can also be eaten alone with rice or toast, which would make us a mid-Thai dish, mid-west.
In Thailand, we used to eat with a fork and a spoon. Chopsticks are rarely used, except noodle soups. The fork, held in the left hand is used to shovel the food as the spoon. However, the tribes of the north and northeast, it is not uncommon to eat sticky rice with the right hand by balls which are then dipped in the trimmings. Muslims in Thailand eat with their right hand only.
Often the Thai dishes are served with several listed on spices to enhance the flavor. It may be small pieces of dried peppers, chillies soaked in rice vinegar, or as mentioned above, a sauce like Nam Prik.