BANG NAM PHUENG - A DIFFERENT FLOATTING MARKET IN BANGKOK

When visitors come to Thailand, they tend to follow several received ideas, ride an elephant see a tiger, eat a ripe mango, lie on the beach and of course, visit a floating market.
All these things are possible, but the problem is that everyone has the same program. It is obvious that if you go to Bangkok for the first time via our services (or habit and desire) the Floating Market Damnoen Saduak should be in your road book.
Fortunately, Bangkok, formerly known as the "Venice of the East", has seeral rivers and twisting channels, and with them, many floating markets, including Bang Khla, Amphawa (open only during the weekend ) and more recently Bang Nam Phueng.
NOthing linked with the rest of the tourist-crowded places, we will speak about this place.
Bang Nam Phueng is relatively new on the scene of the floating markets and unlike Damnoen Saduak, effectively responding to the needs of the local population.
Located just South of Bangkok in Phra Pradaeng, Samut Prakan Province, Bang Nam Phueng is a designated agricultural zone and the floating market was created to showcase the products of the region and to stimulate the local economy. What makes Bang Nam Phueng different from most tourist destinations in Thailand as it is focused on sustainability and eco-conscious, opting for banana leaves and coconut husks as wrapping rather than typical plastic bags.
The area is rich in natural resources, the production of crops such as lemon, bitter gourd, bananas and mushrooms are available. Many of the stalls in the market sell one type of product or specialize in handicrafts made from raw materials native to the land, inspired by the Thai OTOP project (one tambon one product).
The floating market, which technically does not float, is a subtle mix of handycrafts that you will not find elsewhere, fresh and delicious food made for a real taste trip while enjoying the muddy waters.
The best way to tackle the Bang Nam Phueng market is to come with an empty stomach in the morning and eat throughout your visit path.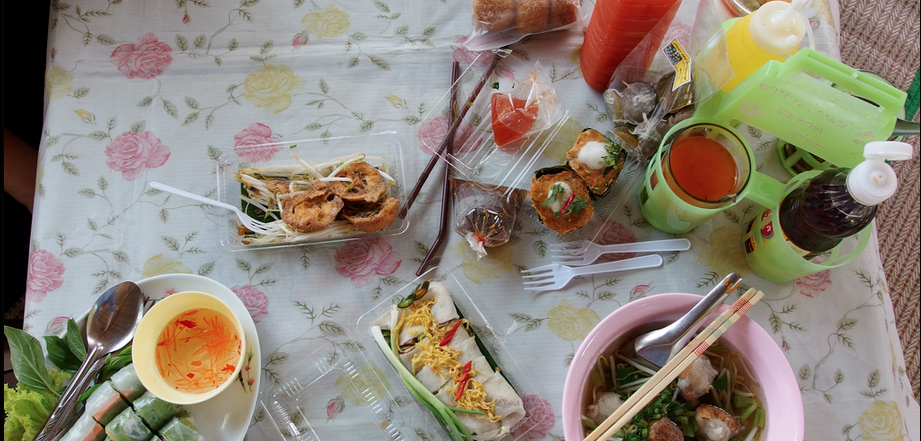 A little advice? Tod hom (fried catfish covered with a delicious sauce), oysters and eggs to order, juicy Isaan sausage and coconut ice cream and you're happy.
Reaching the floating market is not easy, but worth the trip. Many temples are closed to this place and deserve to have a look as Sri Nakhon Khuean Khan park, botanical garden, a haunted building and mystery lake. You can also rent bikes or a boat for a ride on the river.
Ask to our guide but beware it is only open during Friday and the weekend from 7:00 to 15:00. To avoid the crowds and get the freshest food, come as soon as possible.